Dear Friends,
Spring is quickly turning into Summer and we are finding ourselves finally touring with our music and our ceremonial offerings. What a joy to be with community again, to share the love and the music that carries it from one heart to another! 
We will be adding more events as we go, so please keep an eye out for new dates as we continue on this journey of awakening and heart-opening together.  We hope to see you soon!
Upcoming Concerts, Breathwork and Sound Healing Ceremonies:
May 26-29 – Thursday through Sunday
Lightning in a Bottle Festival
We will be offering a couple of performances at Oshan's Casbah Teahouse. We are excited to be part of this project featuring live acoustic music and dance.  The theme is world music and a Gong Fu Cha tea temple style gathering space where conscious and spiritual music is brought to people.
June 9-12 – Thursday through Sunday
Breathwork and Sound Healing Journeys at The Hog Farm Hideaway Festival
We will be participating with Sound Healing and Group Breathwork Sessions as part of the Gong and Healing Arts Sanctuary at this great jamband festival at the Black Oak Ranch in Laytonville, CA.  If you decide to attend the festival, be sure to visit the Sanctuary and surrender to the power of more than a dozen oversized gongs, sound healing instruments and your own breath.
June 18th – Saturday 
Concert at the Wu Wei Tea Temple in Fairfax, CA
We hope that we will see many familiar faces in the crowd at this amazing tea house.  They have super healthy and masterfully blended elixirs and food plates on top of their tea offerings.  We are happy to bring our music a little closer to our Bay Area friends!  Our concert will start around 7 pm.
July 8-10th – Friday through Sunday
Concert at the Oregon Country Fair
We are so excited to be part of the Oregon Country Fair again this year! This is our favorite festival in the world.  This is likely the first original transformational, psychedelic and  conscious festival that likely inspired all the others that came after. We will play at the Community Village Stage on Sunday at noon.  Additionally, find us late nights at our own renegade stage (location to be determined later) within the festival.  
Sacred Music Gatherings:
In addition to these concerts and festivals, this Summer we will be present at a few smaller conscious music gatherings.  These events are so intimate and sweet, with like-minded people who love heartfelt music, plant medicines and consciously created spiritual circles, workshops and fire-side heart-song-circles.
Find us at Good Medicine Gathering, Plants Enchant and Singing Alive, wild-fire season permitting.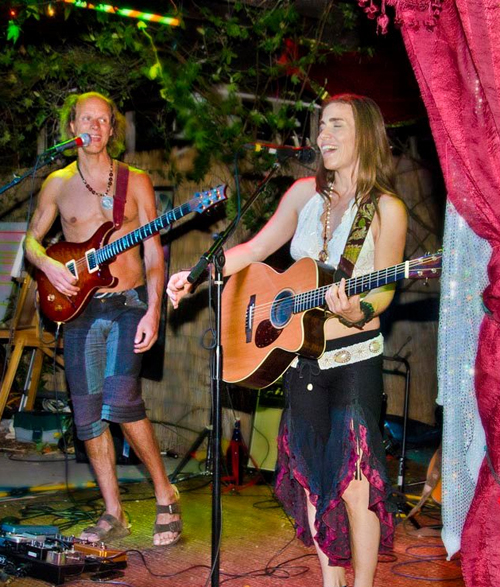 Your Title Goes Here

50%

50%